Note
A lot of this information is deprecated now. Please see my PyPDFOCR package for how I do everything described in this article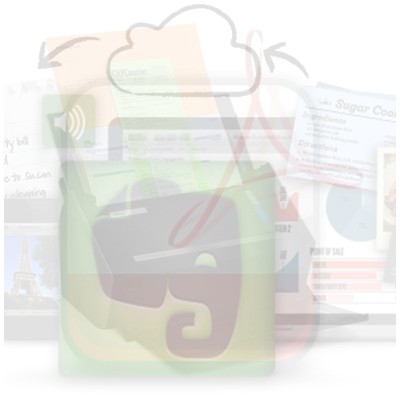 I've tried to go paperless for a long time now, but the overhead of starting my laptop, scanning, importing, and the filing in a folder always made me go back to just keeping stacks of paper around. But now I've finally found a solution that works well enough that I haven't abandoned it after a few months.  The key is a stand-alone scanner that does OCR, converts to PDF, and then uploads to Evernote automatically. Details below:
Hardware required
Fujitsu ScanSnap 1500 - This was the game-changer; it's a little pricey but after having gone through a bunch of inferior flat-bed and Neatworks scanners, this stand-alone scanner really makes things simple.
Dedicated PC running on your network -  You could just use your laptop, but  I have a bunch of different desktops running file servers etc that makes things simpler
 Software required
Evernote - I'm a big fan of this service, and use it for all my notes/receipts/documents/lists.  Get the premium service, it's definitely worth it!
Abby FineReader for OCR (this ships with the Fujitsu ScanSnap)
Download a program that can watch a folder for file changes and run a script.  Since the server I'm using at home runs Windows, I use Watch 4 Folder, but this should be much easier on Mac OS X.
Workflow Scripts
Setup up a profile on your ScanSnap image scanner that scans to Abby FineReader (OCR that comes with the software) and does a searchable PDF, that writes the file to a specific folder which I'll refer to as "Incoming".  The raw scan will first show up as "YYYY_MM_DD_HH_MM_SS.pdf", and once Abby finishes the OCR in the background, it will replace it with "YYYY_MM_DD_HH_MM_SS_OCR.pdf"
Setup the following batch file "move.bat".  This will watch the "Incoming" folder for any file ending with "_OCR.pdf", wait 5 minutes, and then copy it to a folder called "To evernote"
[ccw lang="dos" width="100%" strict="true"]
set noext=%file:~1,-9%
set ocr="%noext%_OCR.pdf"
IF EXIST %ocr% (
echo "Found %ocr%! Waiting 5 minutes before doing anything"
PING 1.1.1.1 -n 1 -w 300000 >NUL
move %ocr% "c:\users\virantha\Documents\ScanSnap\To evernote"
)
exit
[/cc]
Since we want multiple instances of this batch file running, we need to create another batch file "start.bat" to invoke this as a process:
[cc lang="dos"] start c:\Users\virantha\Documents\move.bat %1 [/cc]
Configure Watch 4 Folder to run at startup minimized, and monitor your "Incoming" folder for any changes, and then execute "start.bat"
Configure Evernote "Tools -> Import Folders" and add your "To evernote" directory to the list of folders Evernote watches for file imports.
You're done!  One press on your scanner, and your OCR'ed PDF documents will arrive in your Evernote default notebook in a few minutes.  You can then use evernote search to find whatever you need at a later date even if you don't bother to file these new notes.